DEDICATED TO
THE TENGU CLUB
THE TENGU CLUB OF SEATTLE, FORMED IN THE 1930S BY JAPANESE
AMERICANS HELD ITS FIRST TENGU BLACKMOUTH SALMON FUN DERBY IN
1946. ARGUABLY THE LONGEST CONTINUALLY RUNNING SALMON DERBY IN
NORTH AMERICA, IT CONTINUES TO BE HELD EACH WINTER IN ELLIOTT BAY
THE DERBY ORIGINALLY OPERATED OUT OF THE HARBOR ISLAND BOATHOUSE
AND LATER MOVED TO LLOYD'S BOATHOUSE. IT NOW RUNS OUT OF THE CITY
OF SEATTLE'S SEACREST BOATHOUSE.

CLUB MEMBERS, RETURNING FROM WARTIME INTERNMENT CAMPS, WERE
DENIED ENTRY INTO LOCAL SALMON DERBIES SO THEY ORGANIZED THE FIRST
TENGU DERBY IN DECEMBER OF 1946. MORE THAN 170 PEOPLE, INCLUDING
ABOUT A DOZEN NON-JAPANESE, FISHED IN THE FIRST FOUR-SUNDAYS-LONG
COMPETITION SINCE THEN, THE DERBY HAS VARIED IN LENGTH UP TO 13
SUNDAYS.

THE TECHNIQUE OF 'MOOCHING WAS INVENTED IN ELLIOTT BAY BY
THESE FISHERS, WHO PERFECTED A WAY TO ENTICE SALMON BY WORKING
BAIT IN AN UP-AND-DOWN MOTION WHILE DRIFTING. THIS METHOD PROVED
TO BE SO EFFECTIVE THAT NON-JAPANESE WOULD "MOOCH HERRING FROM
THEM. THE TENGU CLUB RECOGNIZED THE HISTORICAL SIGNIFICANCE OF
MOOCHING AND ADHERES TO THIS PURIST WAY OF SALMON FISHING TO
THIS DAY.

THE NAME "TENGU" IS FROM JAPANESE FOLKLORE THAT DESCRIBES
MYTHICAL CREATURES THAT WERE MISCHIEVOUS BRAGGARTS. THEIR LONG
NOSES ARE SYMBOLIC OF EXAGGERATING THE TRUTH, WHICH IS TYPICAL OF
FISH STORIES.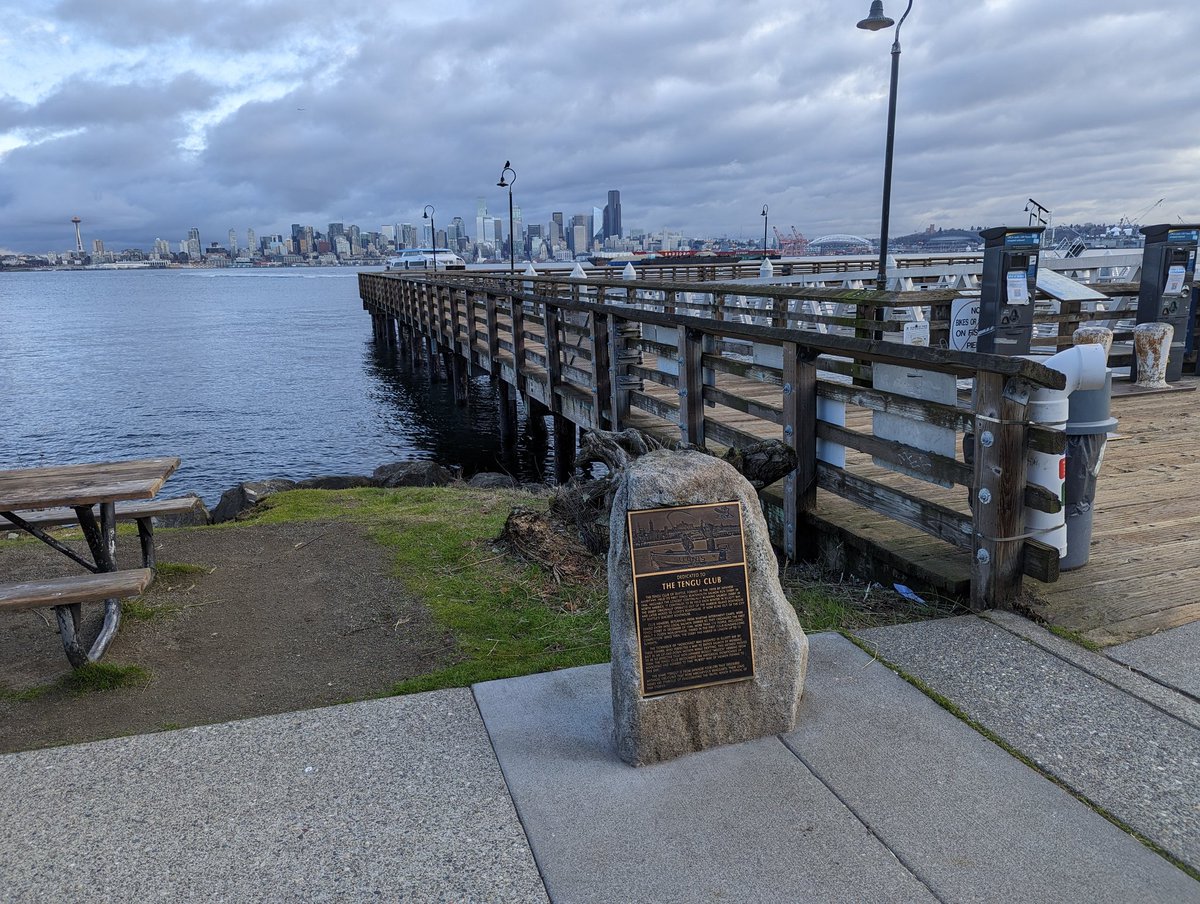 Submitted by @larrycebula.